Take a look at this Golden Retriever, Randee. This is a perfectly fine dog. She loves to swim, she loves to fetch sticks thrown into Lake Tahoe from the beach. She loves hiking in the forest and chasing coyotes, bears, and squirrels. But she hates canoes. Not a mild dislike, not a negative preference, pure revulsion for riding in canoes. Since Randee never mentioned this to us, we found out about it in a challenging way.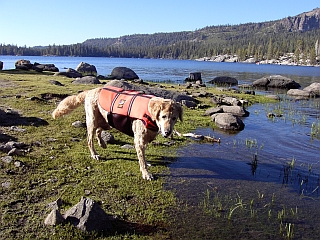 Randee on the shore of Silver Lake with life preserver
Because Randee loves to swim, we bought her a doggie life preserver and took her on a canoeing trip to Silver Lake, in the High Sierra. It's a beautiful alpine lake lake with clear waters, ringed by granite mountains and fir trees.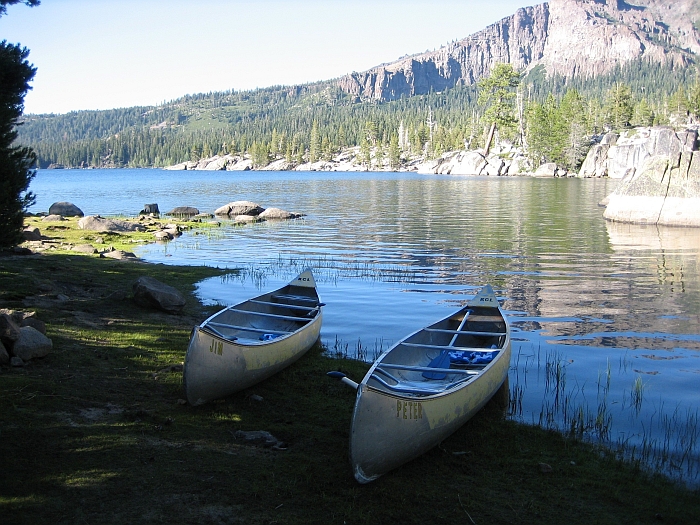 Grumman aluminum canoes beached at Silver Lake
So we grabbed our equipment, loaded up the canoes with people and one dog, then launched off from shore. Canoeing on alpine lakes is a serene experience, quiet and beautiful. No motor to disturb the sounds of birds and lapping waves as we glide across the lake into areas with no trails, untouched except by canoeists.
This is when Randee made her preference for swimming over gliding known. She jumped into the water, flipping the canoe, and we all went for a swim. Our Zen-like serenity went to the bottom of an ice-cold lake while we bobbed at the top. We turned the swamped canoe upright and slowly swam to shore. She dog-paddled around us during this time, happy. No, I don't want a dog kiss right now. Once on shore, we poured the water out of the canoe, reloaded our equipment, balanced everyone back on board, and set off again paddling.
Danny in the front of the canoe
Once offshore, Randy remembered that swimming had been cool and delightful while the canoe was boring. She again jumped into the lake, swamping the canoe and dumping us all into the water. She swam to the nearby shore instead of paddling around us this time, rolling on her back and watching us swim with a swamped canoe.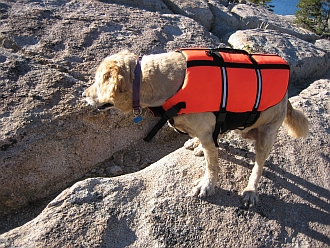 Randy watches us salvage a dunked canoe
We drained the canoe and reloaded it a second time. The first time this happened it was funny but not the second. I explained to her that one more jump and I would brain her with a paddle. I held the paddle over her head for emphasis. She listened to me and we completed the trip without incident.