Don't leave your dog at home while you visit Tahoe. Here's why:
Your dog will miss out on an outstanding experience, hiking, swimming, and chasing squirrels.
You will miss your dog and worry about her.
Down deep, she will always know you had a great time without her and resent you
But where do you put her while you're skiing, or in the casino, or at the family reunion where dogs aren't accepted? You can't leave the dog in the hotel or lock her up in your rental house. There is a perfect solution: Doggie Day Care. You need to meet Kyla at Tahoe Tails and Trails.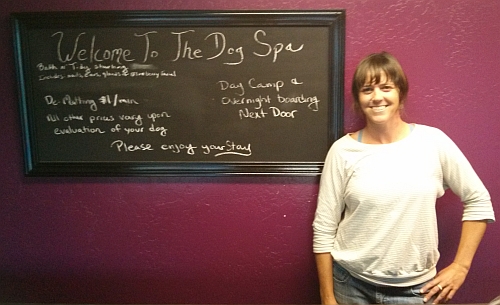 Kyla at Tahoe Tails and Trails doggie day care and spa in Lake Tahoe, NV.
Kyla will take care of your dog in her spa for one hour, half a day, or overnight. Little dogs are kept separately from big dogs in a play room of their own. Big dogs play together in a large area.
Big dog play area.
Little dog play room
Your best friend will be happy and cared for in a cage-free play yard, let out to walk twice a day, warm in the winter.
Golden Retriever just got groomed in the spa.When you're done skiing, pick your dog up and enjoy the evening together. Perhaps you have your dog groomed like this shiny clean golden retriever.
There are live webcams viewing the dog play areas. Once your dog checks in, you get a login and password to watch live dog video on your smartphone all day long. Halfway down the Heavenly ski slope, stop your snowboard, pull out your iPhone, and watch your dog playing or getting groomed.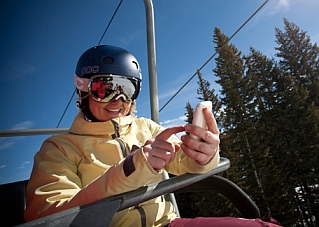 We've known Kyla for years and can assure everyone that this is a kind, clean, and well-run spa, staffed by dog lovers. Highly recommended.
Door sign -- tahoe tails and trails.
Tahoe Tails and Trails is located on lower Kingsbury (Hwy 207) near Hwy 50, close to Heavenly and the big hotels in Stateline, Nevada. Contact information and website is:
290 Kingsbury Grade
Stateline, NV 89449

Mailing Address:
Po box 11273 Zephyr Cove , NV 89448
Phone: (775)580-7121
Fax: (775) 580-7123
Kyla at her desk with dogs.