Lake Tahoe has a few dog-friendly beaches but my favorite is Nevada Beach. Locals take their dogs to this beach to fetch sticks by swimming in the lake and playing on the sand. Water dogs, like retrievers, just love swimming here. This is a "best-kept secret" that I'm going to break the locals' code of silence and tell you about.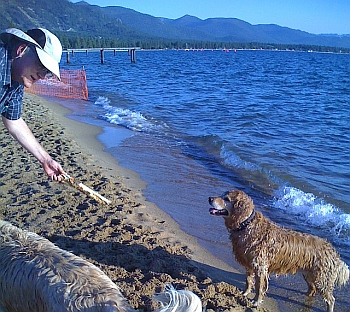 It's a bit obscure how to get to this dog beach, which is wedged between the Nevada beach campground and a mobile home park's private beach. Both are no-go areas to dogs, except when the campground is closed for the winter, Oct 14 - May 16.
There is a parking lot at the NW corner of Hwy 50 and Kahle Drive. The Google map coordinates to the parking lot.
Map to Nevada beach, with dog friendly beach noted
Park here and walk the trail along the creek to Lake Tahoe. It will be about a mile, flat, and ok for bikes or hikes.
Trailhead parking at corner of Hwy 50 and Kahle drive in Stateline, NV
There are a maze of trails through the meadows and forest. Three crucial turns must be taken to the dog beach:
Turn #1 -- Left off asphalt, in the big meadow where the pavement goes North and the gravel trail goes West.
Turn left off asphalt, head west, mobile home park off the left.
Turn #2 -- Left at Beach sign. Keep campground to your right.
Turn left at beach sign, keep campground to your right.
Turn #3 -- after going left of pumping station, turn right off asphalt directly to beach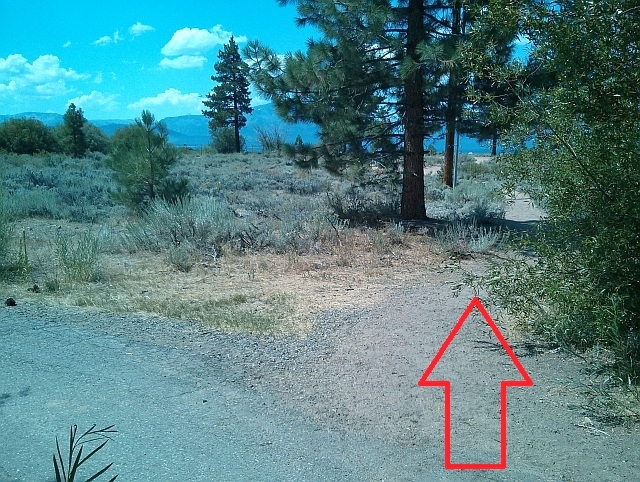 Turn right after pumping plant, leave asphalt, trail to beach
Bring a tennis ball or pick up a stick in the forest along the trail. You are now in dog heaven. If a dog saves some person's life, the Creator rewards it by letting it live here with an endless supply of tennis balls.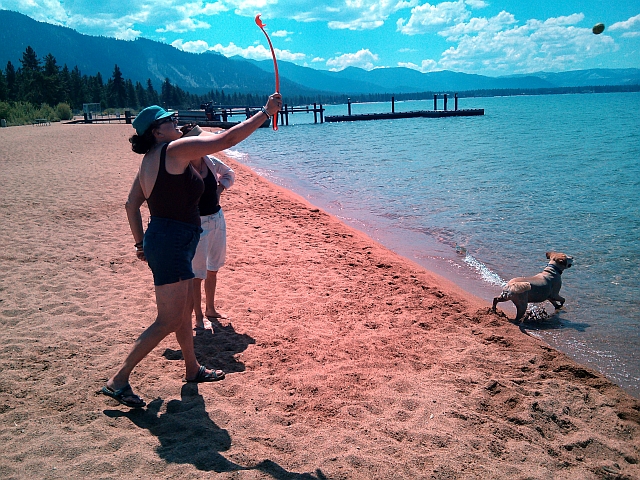 Gal throws ball to dog at beach
The beach has picnic tables and BBQs, or put your deck chairs and umbrella on the sand.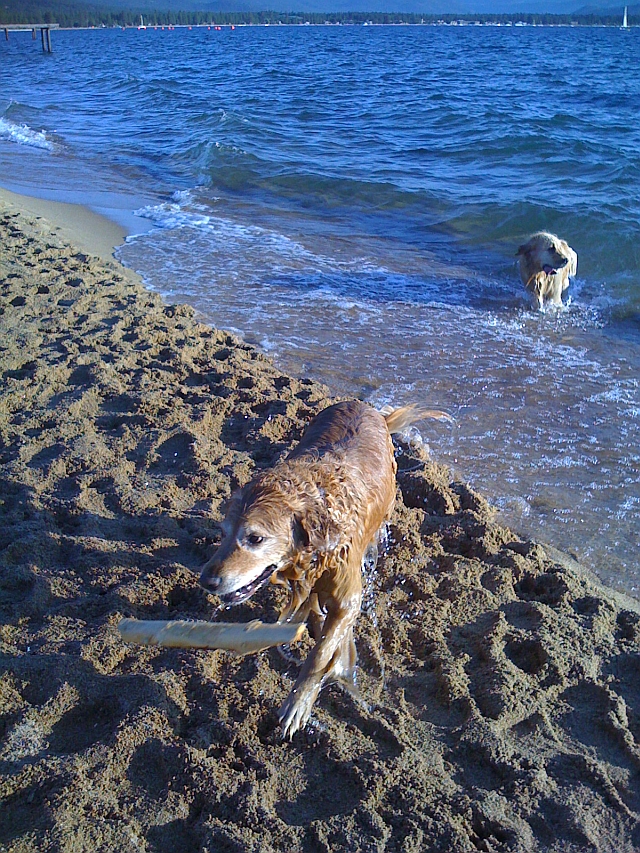 These golden retrievers, Bodie (in the water with a tennis ball) and Dakota (dropping the stick) are neighbors of mine.
If you have a water dog, you absolutely must bring them here. They love swimming, fetching, digging in the sand, and playing with other dogs. They don't seem to mind the cold in winter. My chocolate labs break through a skin of ice on ponds with their paws so they can swim.
Nevada dog beach showing orange fencing and Boy Scout pier.
In the photo above looking South, the orange plastic fencing is a no-go area, a private beach. The pier is used by the Boy Scouts. Lake water is fresh, not salty and scummy like the ocean. Dogs don't have to be washed after swimming in the lake like after a day at the ocean.