Castle Rock is a granite peak visible from most places on the Southeast shore of Lake Tahoe. Also known as "Chimney Rock", it sticks up like a stony knob. These photos look up from Nevada Beach and the view down from the top.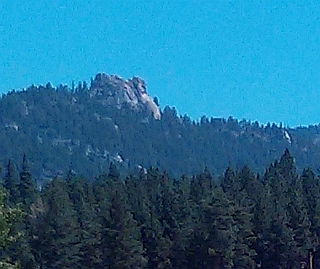 Castle Rock viewed from Nevada Beach
Castle Rock girls in 2009
Getting to the top isn't a difficult hike but the trails are obscure and unmarked, requiring turns. This post will show you exactly how to get there and how to take a photo like the one below....
This can be you, this should be you, it WILL be you in this photo if you follow these directions.
Castle Rock girls with dog
Castle Rock is about a mile from the house, straight line. Getting there requires turning left at the driveway, left on Andria, then follow the winding road for about a half mile. From Stateline downtown, take Hwy 50 to Hwy 207 (Kingsbury) uphill, then left on North Benjamin Drive. Follow it around for about 2.5 miles.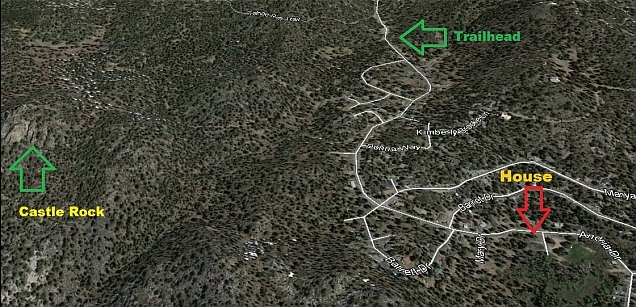 Topo map to Castle Rock trailhead
The trailhead will be just prior to the asphalt road turning into gravel, after the last house on the left. It's a log house. There's a locked steel vehicle gate on the left. Park there. If you go past this gate and park with the rest of the offroad vehicles, that's the start of the Tahoe Rim Trail.
Castle rock trailhead on left, Tahoe Rim Trail straight ahead
Bring your dogs on this hike! They can make it almost to the top (ok, maybe not chihuahuas). Can you find the golden retriever Dakota in the panorama with the girls above?
Here is the Castle Rock gate:
Castle Rock trailhead gate
From here, walk downhill on the trail. Follow it around. There is one crucial turn, that is a tee to the left, less than a mile along. Miss that and you'll go uphill to the Tahoe Rim Trail. There was a stack of stones and a plastic trail marker at the tee last time I saw it. Take the left at the tee and you'll go into some trees, then steeply up the hill topped by Castle Rock.
Long view of turn to Left needed to get to castle rock.
Follow the orange arrow on this post and go uphill. Blue arrow goes to Spooner Lake.Once you see the large granite outcropping, go around the right side, unless you are a rock climber with pitons and like a challenge. Then clamber up the rocks until the people being photographed are on the lower granite knob. The photographer goes on the higher granite knob just East, then takes the photo. You can do it.